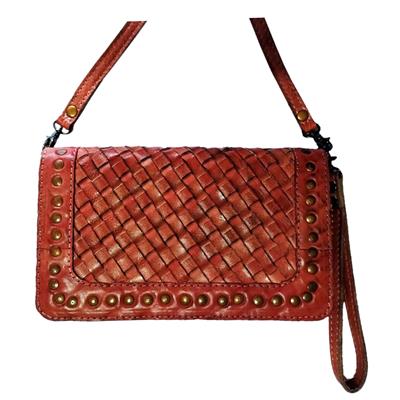 Never Mind Crossbody Wallet NMBG105B
Regular price
$252.00
Sale price
$174.24
Save $77.76
---
Free Shipping on orders over $200
Leather : Handpicked earth friendly vegetable tanned leather from the finest ecofriendly tanneriesSize :H4.5XW9XD1.5The Never mind creations are hand dyed and finished using individual dyeing method (every creation is individually passed through numerous stages of proprietary method of hand dyeing, brushing, and finishing). It is highly time consuming and a detail demanding process. However, the result is a beautiful vintage look with every creation having its own unique and exclusive look.
Items in stock usually arrive in approximately 2 weeks. Pre-order items can take up to 12 weeks. Girlfriend tip: Due to the nature of the tiny batches A.D. is famous for. Sometimes, pre-order is the only way you can get one.
We want to hear from you! So feel free to call, text, email, or fill out the form below with any questions or comments you have.
Visit us: Showplace Market 2001 S Broadway, Moore OK 73160
Call or Text:  405-590-6335
Email:  ContactUs@prairiespirittradingpost.com
Visit our Outlet Offices 927 N Flood Ave #103 Norman, OK 73069
Call or Text:  405-590-6335
Email:  ContactUs@prairiespirittradingpost.com